On Thursday, one of my very dear friends from home, Christine, had a birthday celebration at the Houston Zoo. She'd invited me a few weeks ago and sent me a message saying she totally understood if I couldn't get off work, but that she had decided to invite me because she would really love to have me there. I really wanted to go, but I pretty much assumed I wouldn't be able to go. You see, this past week was Spring Break, a perfect week for my friends who are either college students or high school teachers to have a trip to the zoo, but a horrible week for me to try to go anywhere because I work at a retreat center.
At a retreat center, "Spring Break" means "the-time-when-there-are-a-lot-of-guests-all-week-and-pretty-much-all-of-the-employees-are-doing-two-or-more-jobs-at-any-given-moment."
Not a good time to suddenly ask for a day off.
In fact, when I first got Christine's message, I was brave and asked for the day off that very afternoon (technically two week's advance notice), but then the next morning, when I saw all the work that had to be done, I retracted my request.
Fast forward about a week, and my sisters are here visiting. I'm not sure what it was, but something about that day with them made me really
really
want to celebrate Christine's birthday with her. I started thinking how great it would be if I could go and surprise her. Honestly, the surprise idea was the simplest way to disappoint the least amount of people. This way Sarah and I could just talk about it and plan it in hopes that somehow it would work out.
You see, besides the fact that it was Spring Break, there was also the fact that I don't have a car right now. So, at first the surprise idea was just something that Sarah and I told each other was a nice
idea
, with no real expectation of it actually working out.
Then, the next morning (that's Tuesday morning), I looked at the schedule for Spring Break.
I was not on the schedule for anything (besides my actual job) on Thursday.
That in itself was a little miracle.
So I thought about it all day and even half-heartedly felt out the possibility of borrowing a car from one of my co-workers for "any time in the future if I might need to go to Houston or something."
That didn't seem too promising, and, honestly, I didn't expect it to. I don't let people borrow my car (or, didn't let people borrow it when I had one), so I generally avoid asking people if I can borrow theirs.
Then, Wednesday morning came and out of nowhere I just had a burst of confidence that it would work out and I would be able to go one way or another. So I asked for Thursday off.
Please note that Thursday traditionally comes
immediately
after Wednesday. Consult any calendar you wish and you will find that's the way the week works.
Also, please note that I used to work in Career Services where, on a weekly basis, I conducted a training for student professionals that drilled into their heads that they should not give less than two week's advance notice of a day-off request except in the case of illness or emergency.
So here I am doing something that goes against everything I've ever taught other people.
Fortunately I have a very
gracious and understanding supervisor
and he gave me the day off.
But there was still the fact that I did not have a way to get to Houston. Finally at the end of the day, I worked up enough courage to outright ask someone to borrow his car the next morning and take it for a spin in the big city. Wouldn't you know he let me borrow it without any qualms.
Thursday morning I sort of couldn't believe this was actually working out, but it was. I was on my way to Houston to surprise Christine.
Now, here we might should mention that I have never been able to pull off a big surprise in my entire life. I really don't even try. I just blab entirely too much about big things like that.
So, I get to the zoo and parking is simply crazy because, you see, it's Spring Break and not only is Spring Break a good time for College Students and High School Teachers to go to the zoo, it's also a great time for young families to go to the zoo, so the zoo is requiring everyone to park in the Hospital district because the regular zoo parking lot is full. After navigating the zoo of Houston traffic, I finally find a parking space in a garage that looks like this on the outside.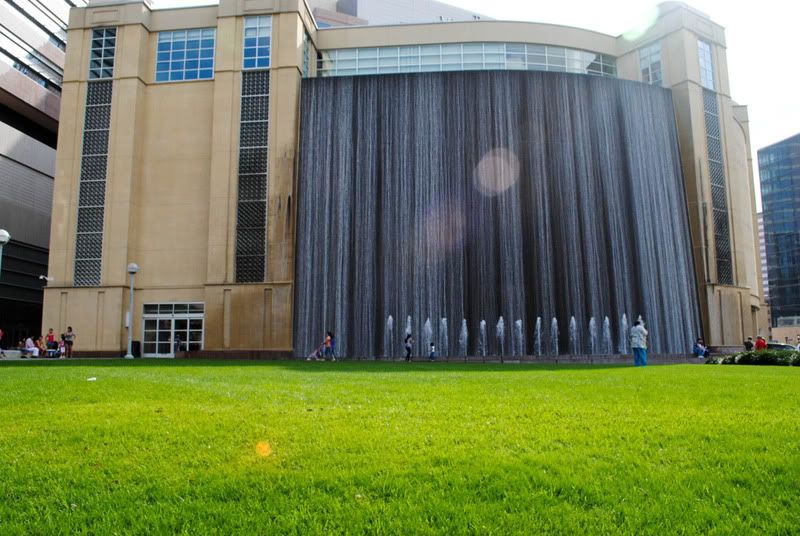 I'm not kidding. It's gorgeous, right? But don't let the outside fool you. The inside is treacherous - full of sharp turns and steep hills. Not fun. Especially not fun in somebody else's car.
I get out of the parking garage and am so turned around I have no idea where I should head to get to the zoo because there are lots of signs that say "Zoo Parking this way," but no signs that say "Zoo this way."
I stand for just a moment and take in the scene. I am basically surrounded by two types of people:
1) People in scrubs (I'm in the hospital district right now, remember?)
2) Young families
The part of the Hospital District that I'm in? St. Jude's, of course, so I have no idea if any of these young families are headed to the zoo or to the Hospital.
I find a red-headed mom with two kids and a grandmother with an iPad. They seem lost too, so I ask them if they're headed to the zoo. They are! So we join forces, become friends, and navigate to the zoo using the iPad.
All this time, Sarah's sending me texts like "at the tigers!" and "entering the African forest" Pretty entertaining.
So I finally make it into the zoo and text Sarah to say that I've arrived. I look up from my phone and see giraffes, so I start walking toward them because they're one of my favorites. I'm waiting for Sarah to text me and sort of glancing around and suddenly I see Christine about three yards ahead with her back to me, taking a picture of Sarah and another friend in front of . . . the giraffes!
The opportunity to scare Christine is just too perfect, so I walk up behind her, holding my finger to my lips because the others have noticed me by this point, and poke her in the ribs.
She turns the other way from me, notices a woman walking past, and, as I found out later, thinks "Well, that woman had some nerve." I say "Hey," and she turns around, and we both scream so loudly that our whole entire quadrant of the zoo turns to see what the commotion is.
It was a beautiful moment and I cannot begin to tell you how wonderful the rest of that day with my girls was. There are some friendships that I will not lose without a fight. And these girls are definitely not going anywhere for a long time, no matter how much physical distance may separate us.
Although I won't try to tell you how wonderful the day was, I will share some pictures (and a few words) with you.
I just love elephants so much, and this baby was such a joy. It reminded me of Babar the elephant from one of my favorite childhood stories. It's just so fuzzy and has such darling eyelashes!
Clearly I just love hoofed animals in general.
And birds too. The more colorful, the better.
After our lovely day, we went to the Cheesecake Factory and sat in a booth thoroughly enjoying the benefits of Daylight Savings Time, namely eating our entire dinner with natural light streaming in the windows.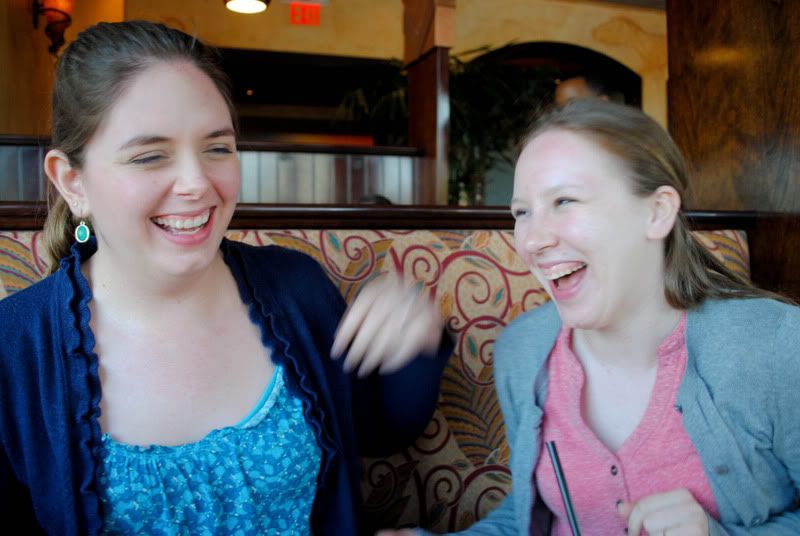 This is definitely one of my favorite pictures of these two.
It was cold in the restaurant, so I ordered coffee. It came in a glass cup, and what's a girl to do when she receives a glass cup of coffee but take pictures of the creaming process? (Or have her sister take pictures of it.)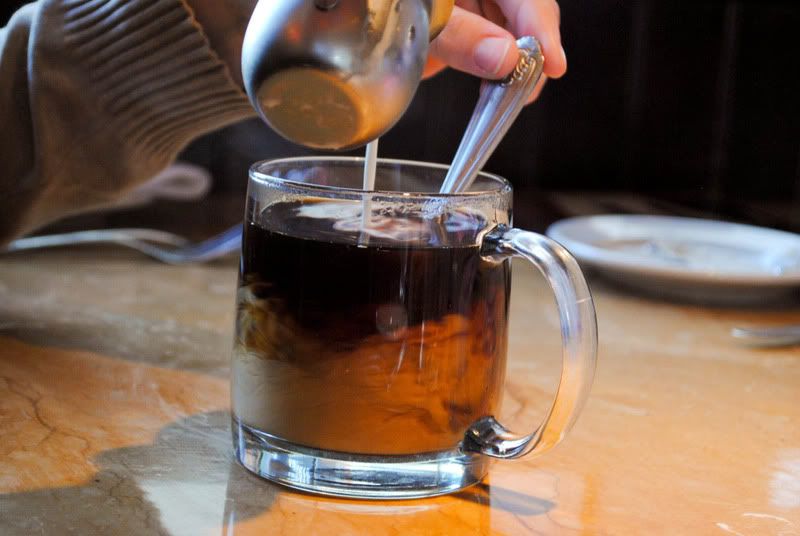 Good job, Sarah!
Eventually, of course, the day had to end, but let me tell you, I am still smiling because of it.