If you follow me on
Instagram
, this trip is old news (It happened in November).
However, if you follow me on Instagram, you didn't get the whole scoop or all the pictures, so here is (in the words of Paul Harvey) "the rest of the story."
As I've mentioned in the past
, my dad did the same thing for all of my growing up years, then changed careers just recently. I really can't remember a time when I didn't have a pretty solid idea of what he was doing at any given point in a day, even if he was far away.
Our family was always very close, and having a good idea of what Dad was up to at work helped to tighten that bond, I think.
Then he threw us all for a loop, and decided to become a truck driver - an over-the-road truck driver, no less. That means he could be anywhere in the U.S. at any given time. (Within the first six months or so of his career, he had been in 47 of the 48 Continental United States!)
Not to mention that he was now driving an 18-wheeler, and hauling who knows what (anything from copper wire to New York City's trash - literally).
I hadn't expected this, but it felt downright strange to not know what he was doing day in and day out.
So, of course, when the opportunity arose, I jumped on his truck with him to find out.
Oh, did I mention that I stayed on that truck with him for 10 days?
Do you see the size of that cab, ladies and gentlemen?
Let me just say, I have a hero in disguise as a dad. That wonderful man slept on a mattress topper (not a mattress - just a topper!) on the floor for 10 nights so I could have the bed, bought me coffee every morning (I'd brought a coffee maker and coffee with me, but it turned out his power converter wouldn't support the amount of amps or something required by my coffee maker), and generally treated me like a princess.
We had a fantastic time, just driving down the road, sometimes talking, sometimes listening to music (his good old southern rock that Mom doesn't really listen to, some folksy stuff, and my Needtobreathe and Coldplay), and sometimes enjoying silence and pointing out interesting things along the road to each other: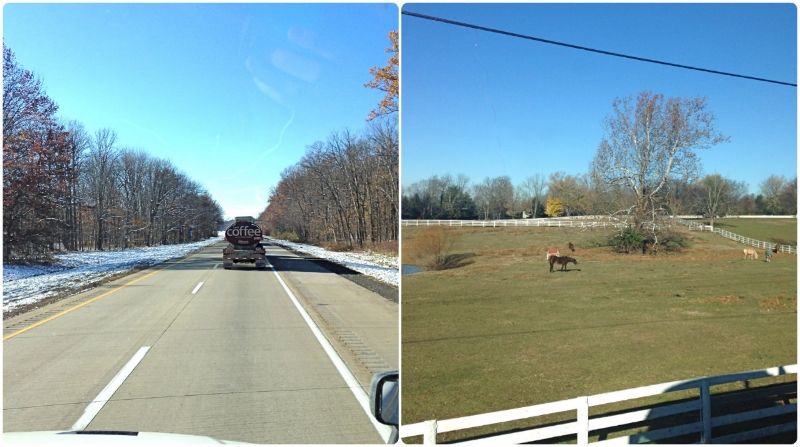 "Look, Es" he said, "it's a coffee truck!"
And "Man, those poor horses without the blankets sure must feel discriminated against..."
Dad is a "moderator" on a truck-driving forum for new truckers, or people who are interested in getting into the career, and it just so happened that he had committed to write a "journal" of his time on the road that coincided with our time together. He really enjoyed having me along as a "photographer" to record various parts of his job that he could share on the forum. I had fun helping him understand a little more about blogging/getting photos on his blog and the forum.
As a flat-bed driver, as opposed to a dry-van driver, Dad has the responsibility of securing his own loads. He says this is one of his favorite parts of the job as it keeps him active. From what I've observed, this love for securement is pretty rare among truck-drivers. It totally makes sense to me that he would love it, though. There's a certain satisfaction that comes from doing something yourself and knowing that it's done right.
Every once in a while, I'd help him with securing one of the loads (and, of course, he went back over everything I did to make sure it was correct) and it was pretty cool to know that I'd had a little part in making sure that load stayed on the back of his truck through wind, snow, and high speeds.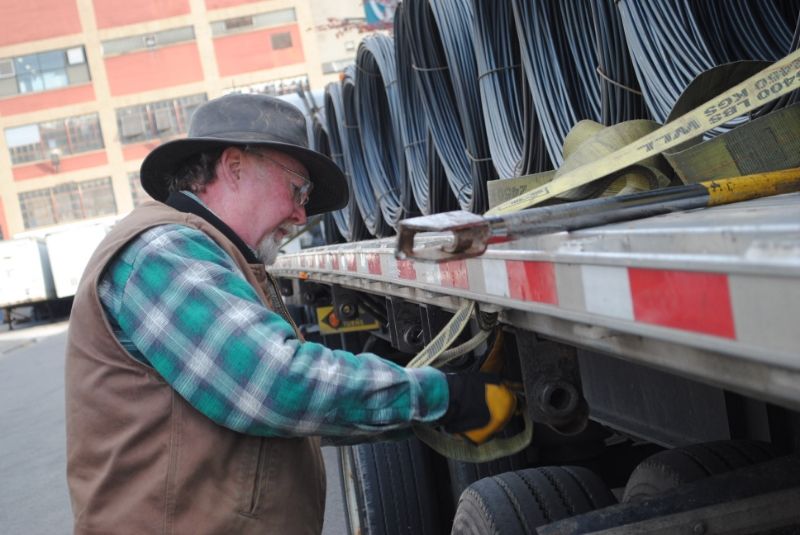 Our first stop on this crazy journey was in Vidor, Texas, where we picked up a load of steel coils headed for Cincinnati, Ohio.
(Cincinnati, by the way, is one of the few words that I can NEVER remember how to spell...)
We spent the weekend at a truck stop on the border of Kentucky and Ohio.
That was quite the experience. A truck stop is like it's own little world. It was actually much cleaner and pleasanter than I expected it to be. Our weekend consisted mainly of doing laundry in the truck stop, watching movies in the truck, and taking lots of walks to enjoy the Fall foliage.
When Dad stopped in Cincinnati to unload, I was still asleep. I woke up and looked out the window to find this charming old brick building with various international flags hung along the roofline and a beautiful Holly full of red berries.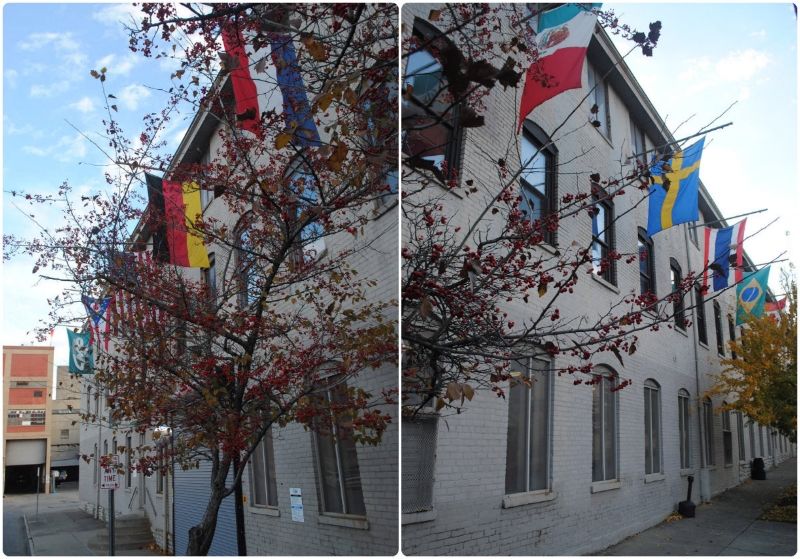 After this stop, we headed across the border into rural Southern Indiana to pick up some sheetrock bound for Syracuse, New York.
While driving through Indiana, we saw lots of these lovely, bare, almost wraith-like, white trees - Sycamores, right, Indiana friends?
On our way to New York, we started seeing a bit of snow. I was so impressed at the way they know how to maintain roads in the North! (In Texas, or the South in general, I guess, everything would have been closed for even this tiny amount of snow.)
Now, before we go any further, let me acknowledge that these are not really the quality of photos you are used to seeing on this blog, but please keep in mind, I'm taking a lot of these through the windows of a truck moving at approximately 65 MPH...
This particular day was a long, long, long one. By the end of it, we had dropped off one load, and were picking up the next at about 11 PM. I was sitting in the truck and feeling very sleepy, and possibly a bit delirious if I'm honest. I looked out of the windshield and saw this little fork-lift staring right at me:
I may or may not have taken way too much time trying to decide if he was friendly or not...
I was so tired that I decided to sleep in the next morning while Dad got on the road, but he wisely woke me up, knowing I would want to take pictures of the snow-covered houses in this precious little town that we drove through.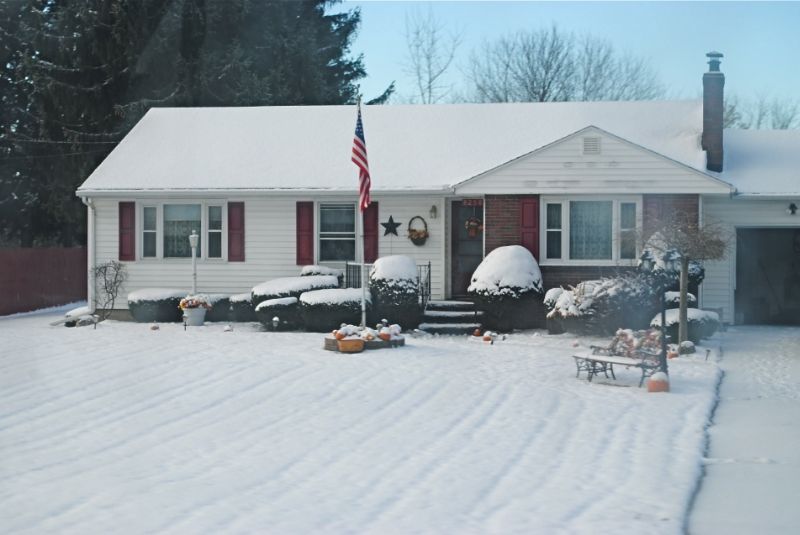 Let's just be honest and say that I was FREAKING OUT the entire time I was taking these pictures, because this was The Most Snow I'd Ever Seen.
I know. I'm a little bit pitiful...
I don't remember the name of this town, but I remember thinking how really it wasn't that much different than being in the South. That house looks like it could be my next door neighbor's, in fact.
Well, that thought quickly changed when we made a stop in Walmart.
We walked into this New York state Walmart like the normal Southerners that we are, me chattering to Dad about something and him laughing at something funny I said, and slowly it dawned on me that no one, NO ONE, else in this store was talking.
No one smiled back at us as we passed them in the aisles.
Someone looked at me like I might be an alien when I said "excuse me" because I had to walk in between them and the shelf they were perusing.
Everyone just kind of walked around in their own little worlds and totally ignored each other.
You guys. That was one of the weirdest experiences I've ever had. Come to think of it, I have a long list of
weird experiences
in
Walmart
, and I guess we can just go ahead and add this one to it. Maybe I should just never go to Walmart again? It always seems to unnerve me.
I have to admit that I was a little sad we ended up in New York and I didn't even get a chance the see The City. Honestly, though, I wasn't too sad.
Seeing New York City has never been on my bucket list.
I mean, I always figured if I was ever anywhere near it, I would at least look at it a little bit...
But who am I kidding? I was more than comforted by those adorable snow-covered houses, and the best peppermint mocha ever (Trust me. I'm a peppermint mocha connoisseur.) - at a random little chain in a rest stop!
You did good, New York.
That load we picked up in the middle of the night was headed down to Alabama, so I bid the snow goodbye a little sadly, and we headed back the way we'd come - through Cincinnati. On our way there, we saw the most fantastic sunset graced with an "airplane spaghetti bowl" as Dad said.
I'd kind of wanted to photograph Downtown Cincinnati (it was the only city we drove through - we skirted around all the rest), but it was dark by the time we got there. I got one semi-good shot, but that was it.
Dad warned me before we got into the city to be prepared for a tunnel. In other words, he told me I should have my camera ready. Unfortunately, I was too busy trying to get night skyline pictures to really prepare my camera for the tunnel, so all in all, it wasn't the most rewarding night for the little perfectionistic photographer that hides inside of me...
It was lovely going through that tunnel, though. Tunnels always make me think of my
Pop
. I don't have too many clear, specific memories of him. I have lots of everyday knowledge, but as far as particular memories outside the norm, I only have a few. One, though, involves the tunnel that crossed the Ship Channel in Houston before the Fred Hartman Bridge was built. I think of him every time I go through a tunnel now, because of that one memory.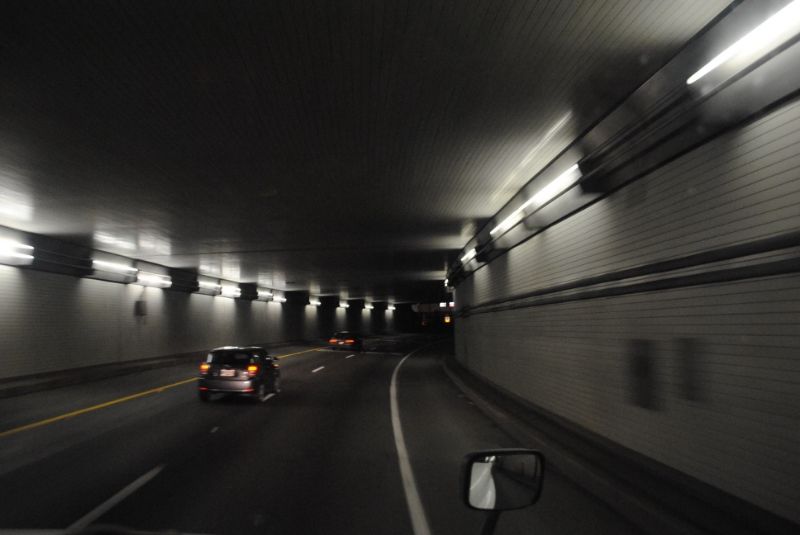 At our stop in Alabama, I sat in the truck and knitted. I did, however, take a moment to enjoy the lovely fall foliage that was beginning to appear here in the South.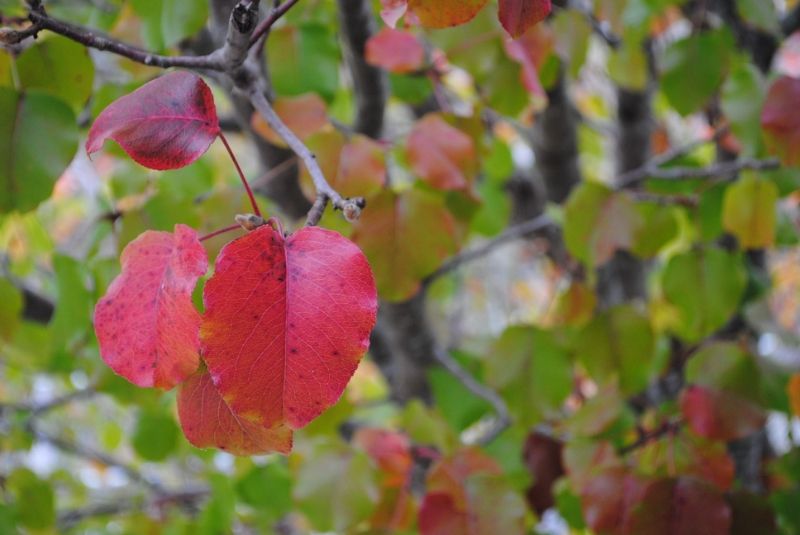 After that stop, we wound our way home through the Smoky Mountains.
Now, the Smoky Mountains are another thing that I have never had any great desire to see.
I know, I know. I'm probably crazy. But, honestly? Mountains just aren't my thing. Give me an ocean and a coastline, and
I will sit and stare and take it in all day
.
I was pleasantly surprised by the Smoky Mountains, though. They really were "smoky" - sort of veiled in a constant blue haze - and so peaceful. I did take pictures, but none of them turned out very well (65 MPH, remember?). So, mostly, I just sat back and enjoyed the scenery.
When I saw these bridges coming up, though, you can bet I whipped out my camera and took as many pictures as I could, hoping I'd get at least one good one.
There's just something I really love about bridges. I probably wouldn't make any sense if I tried to explain it.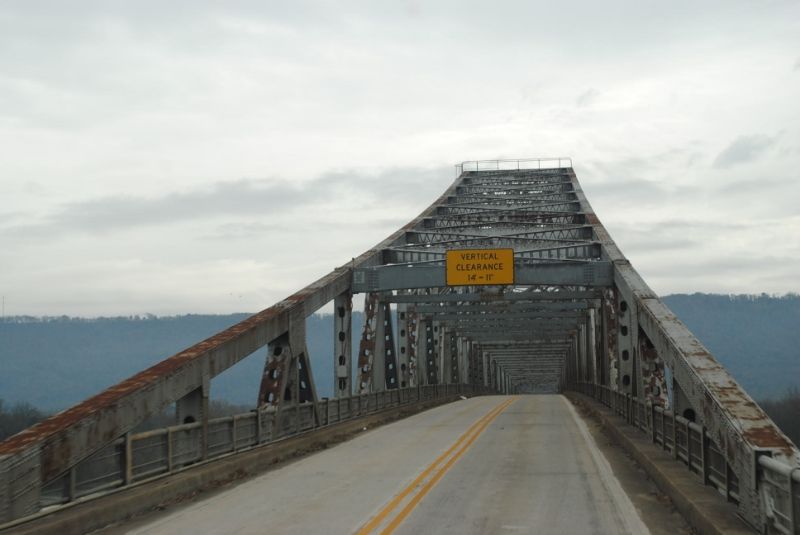 Sometimes there are just things that you love for no good reason.
I have to admit, by the time we got home, I was really grateful to be back in Texas and on solid ground. A tiny part of me had gone on this adventure thinking how crazy cool it would be if I could team-drive with Dad, so I'd been analyzing whether this would be a good idea or not.
Hey.
I know you're laughing right now, so I'll just give you a minute to laugh.
There. Are you back with me? I am being perfectly serious here. From about the time I was 18, I've had secret thoughts that I might enjoy the truck-driving life - exploring all over the country, and seeing the sights. However, the fact is, I'm a girly girl, and ten days out on the road was enough to convince me that, no matter how pleasant and clean they are, I don't want to spend any majority of my time taking truck stop showers. Nor do I want to be always getting my hands dirty doing load securement.
I'll stick with my pencil skirts and phone etiquette, thank you.
Another thing? It was so hard to drive past these three things and not beg Dad to stop.
Clockwise from left:
1. Poplar Avenue - the road in Memphis that Mom travelled down every year of her childhood to visit her Grandmother
2. Elizabethtown and 61 - Need I say more? (It's one of my favorite movies.)
3. Niagara Falls - I WAS THAT CLOSE TO NIAGARA FALLS AND DIDN'T GET TO SEE IT!
I cannot imagine all the other things around the U.S. that I would get
this
close to and just miss.
For a short jaunt, I was fine - quite happy, in fact - but I now know for sure that truck driving is not the life for me.
I have to say, though, it was the best decision to go with Dad and learn more about what he does. I feel so much more educated now about his daily life, and, just the other day, he was able to call me and tell me that he'd stopped in a spot that I remembered from our trip. How wonderful is that?!