When I became a nanny, I had no idea how difficult it would be to find a bag that would suit my needs.
Frequently, I go straight from work to run errands, or to exercise class, or to Bible Study, depending on the day, so carrying everything I need, plus the things I need for the kiddos has become quite the challenge. And it only gets harder in the summer when we head to the splash pad, etc...
I started off with backpacks, but, y'all, I may be willing to wear shorts, t-shirts, and ball caps all day for work, but carrying a backpack on top of all that? I honestly felt like I was 12, and probably looked like it too, thanks to my great non-aging genes, which I'm sure I'll be grateful for when I'm 50 or something...
So it became necessary to carry something a little more mature. Plus, I realize it may murder my back, but I've always loved over-the-shoulder bags more, simply because they can be accessed without ever taking them off - just pull out the sippy cup and voila, you never even had to stop walking - look at me being all practical!
I found this Fossil bag, which I can't complain about, because I know it will serve me well for many years, and I scored it at the outlet for only thirty-something bucks, but it's better for carrying around a lap-top and a few books than all the things I need with the kids.
Sometime after I found this bag, I discovered
Lily Jade
, and immediately began jonesing over their beautiful and practical
Caroline
. I mean, goodness gracious, the thing is
red,
not to mention exactly my style.
You can imagine when Lily Jade announced that I could make a blog post and be entered in a giveaway, I was all for it, so here you go - What's in my bag: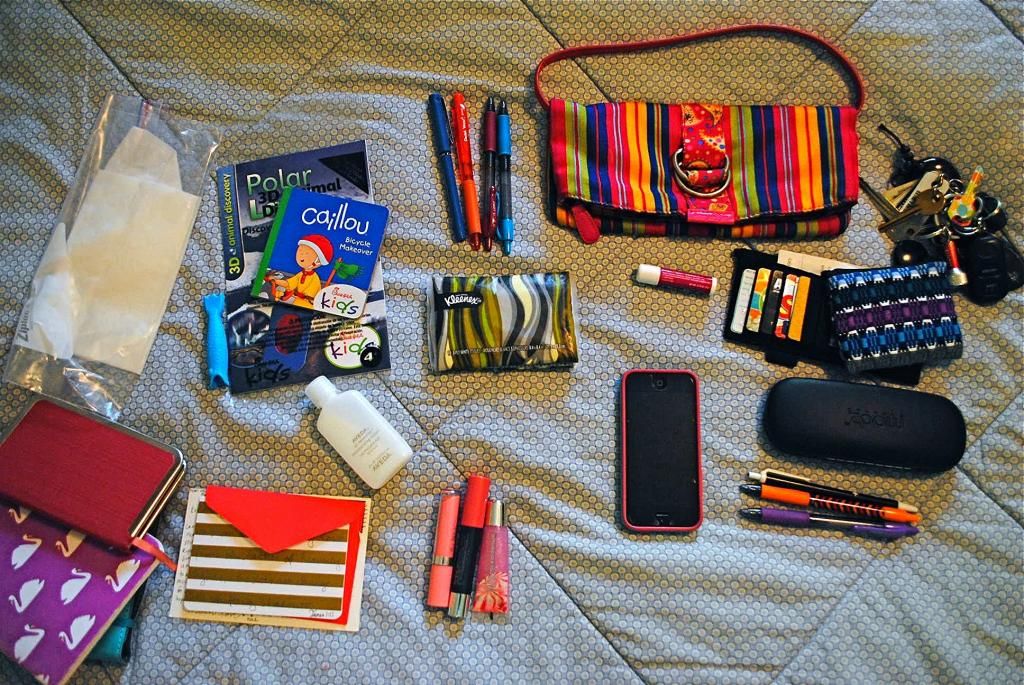 Notebooks of all kinds (planner, meal-tracker, sketchbook, you get the idea), and usually a few letters to reply to or a knitting project to catch up on in case I get the chance during nap or something. (Doesn't really ever happen, in case you were wondering, but a girl can hope, right?)
Tissues and Lotion for me, wipes for the kids in case of ice cream stickiness and what-not.
Honestly, there are usually way more kid's meal toys floating around in my bag than just those three, but most of them are in the back seat of my car right now along with last week's potato chip crumbs and fruit roll-up wrappers...
Anybody who knows me much at all, knows that I always have more pens than any one person has good use for, and it seems that I either have zero lip balm/gloss, or a ton.
I've learned that it's best to keep a smaller bag in my big one, packed with "purse essentials," (phone, keys, wallet, glasses, more pens and lip balm) so if I'm going straight somewhere after work, I can just throw the big bag in back of my car and carry my valuables around with me.
I also usually have a sippy cup or two, a water bottle if the big boy is with us, a special blanket, a diaper, and the toy of the moment (the size of which I heavily regulate). But I leave those things at work for obvious reasons, and this photo was taken at home.
Imagine adding all of those things, plus my water bottle, to this:
Yeah, I need a diaper bag.
Never thought I'd say that at this point in my life, but I guess you never know where you'll be...