With the holidays upon us, I started thinking maybe I could share a few of my favorite unhealthy (Calories don't exist during the holidays. Wait, you didn't know that?) recipes with you. I know, I know, I've already admitted to you all that
I'm no expert cook
, but these are all tried and true family recipes that I know are actually good.
And also? If I can make them, anyone can. So, I present to you Waldorf Salad:
This recipe comes from a kids cookbook that my dad's mom gave us girls a while back. It's one that her girls (and probably Dad too) learned from.
Ingredients
2 cups chopped apples
1/2 of a lemon
1 cup sliced celery
1/2 cup chopped pecans
1/8 tsp salt
2 Tbsps sugar
1/2 cup heavy whipping cream
1/2 cup mayo
Steps (with pretty pictures, of course)
1.Chop three or four large apples,
or
enough to make 2 cups. (I use Honey Crisp, so they are quite large and I could probably get by with only two and a half, honestly)
Put them in a pretty bowl.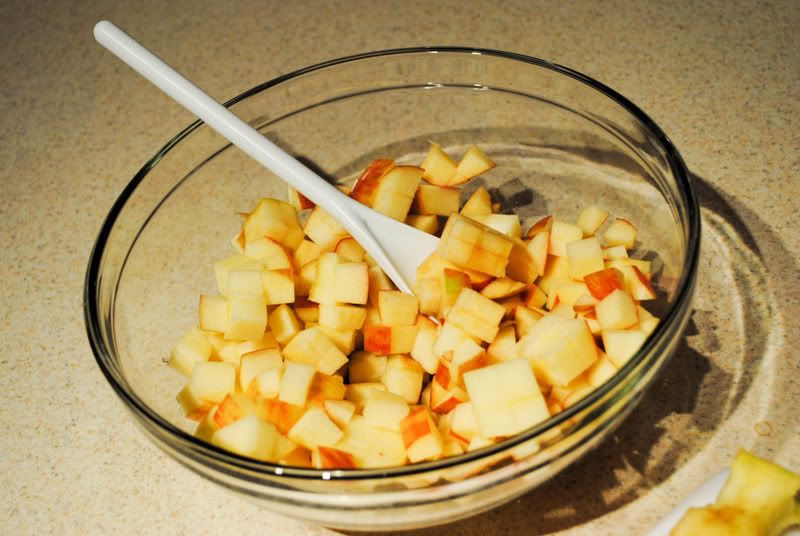 2. Squeeze the juice of half a lemon over the apples, so they won't turn brown.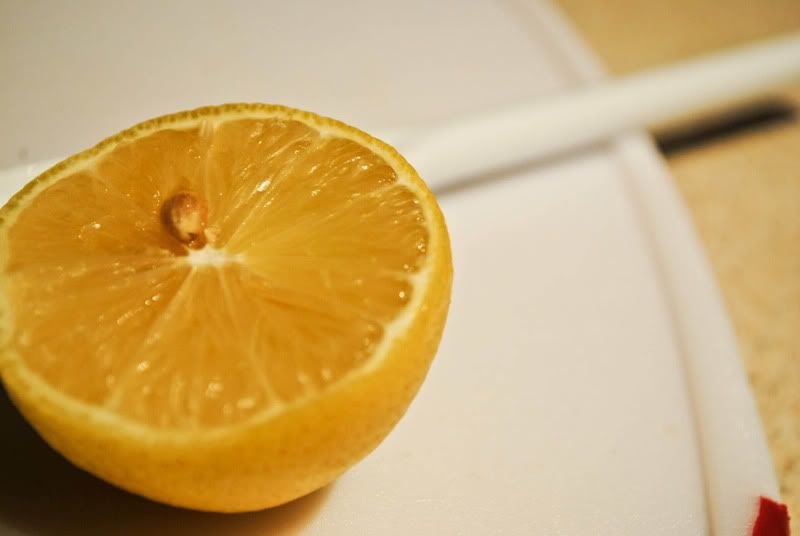 Remember to take the seeds out of your lemon before you squeeze it into your apples, or this might happen.
3. Slice enough celery to make one cup (about three or four stalks according to my calculations).
Don't forget to string your celery.
In order to string celery, place your knife right behind the ridges on the outside of the stalk and make a short incision about 1/8 inch long; place your thumb on the outside of the ridges, then pull straight down to the other end of the stalk and you should have pulled off a lot of strings that look like this:
Add the celery to your apples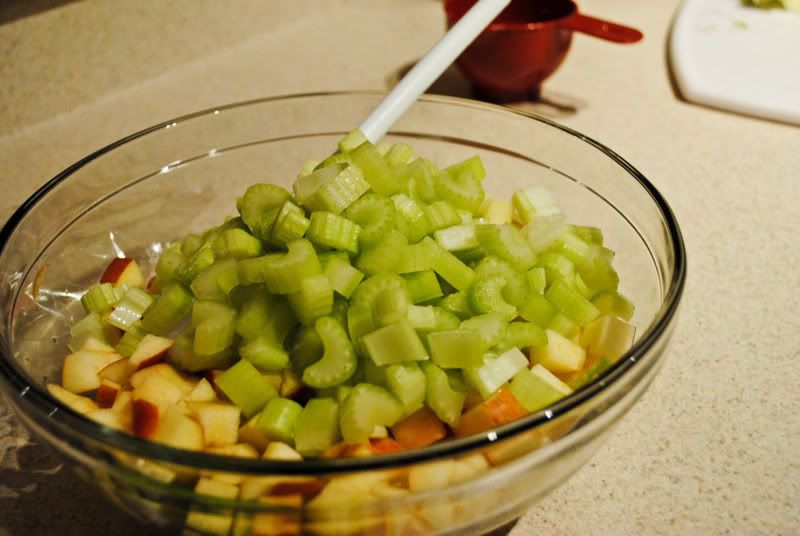 Mix it all up nicely.
4. (At this point, you're supposed to add 1/2 cup of chopped pecans, but I completely forgot to buy the pecans and it turned out fine without them, so I'll go ahead and say pecans are optional - It's delicious either way.)
5. Add your sugar and salt (I just give the salt shaker a little shake over the apples and celery and call it an 1/8 tsp).
6. Whip the cream. In order to whip cream properly, you should put it in a chilled, deep container.
Also, beating with a rainbow-colored whisk guarantees good results.
Oh hey, did you hear about the chef that got arrested in New York the other day?
He whipped the cream and beat the eggs...
7. Mix the mayo with the whipped cream, and add that to your salad. Mix the whole thing gently and chill before serving.
My recipe says to serve it in lettuce leaves, but I just serve it in a bowl and I'm sure it tastes just as good...